In January 2015, Visiolink introduced three new project categories: Standard, Customised and Co-Created. This blogpost will focus on the features launched in the Standard category, illustrating both the rich possibilities within this category and a highly useful enrichment of your starting page. If you have not already heard about these categories or the introduction of the concept Apps as a Service, you can read about them in this blogpost or watch this webinar to get a thorough walk-through of the reasons for the categorisation and the pros and cons of each category.
Over the past five years, we have gradually modified our Standard app and web solutions during more than a thousand projects in eight countries. The result is a highly flexible generic code base adaptable to suit a broad variety of needs without modifying or adding a single line of code. Scalability and modular building blocks are the key to Standard, which gives you the best possible, most carefully thought out and well-proven solution consisting of modules that have been tested over and over again internally through Visiolink QA procedures and externally by several thousands of readers every day. In addition, we offer forward compatibility for a fixed price for Standard solutions. And as the following presentation of five new starting page variations will make clear, Standard does not at all imply simple.
Five Enriched Starting Pages within Standard
First impressions matter. Whether your strategic focus is fully on the daily newspaper or on a combination of rapid online news updates and deeply focused newspaper articles, you want your readers to be impressed when opening your app.
Visiolink has created five great looking starting pages for the iPad, which combine your cover flow with one or two elements to bring your content into play and add value to your paper as well as to your online content. The elements are:
A Publication Content List that presents the top stories of the selected publication in the cover flow using a prioritisation mechanism built upon well-known editorial criteria
A Live News Teaser that presents the latest news from your web site through an RSS feed
A Web View for the content you wish to show to your readers, e.g. a video or picture gallery, ads or a teaser for one of your other apps
1. Publication Content
The first alternative presents a prioritised list of article teasers from the publication in focus in the cover flow. The reader can tap an article teaser to open the publication and read the full article. Prioritisation of content is based upon editorial criteria, like proximity to the front page, text length and headline size.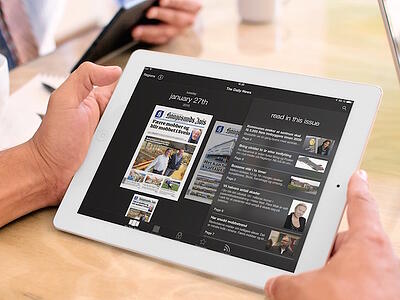 2. Live News
Live News offers the reader all the latest news served from an RSS feed. In combination with the daily paper, live news will give your readers an incentive to come back to your app several times a day. Tapping a news story will lead to either your website or a view in the app.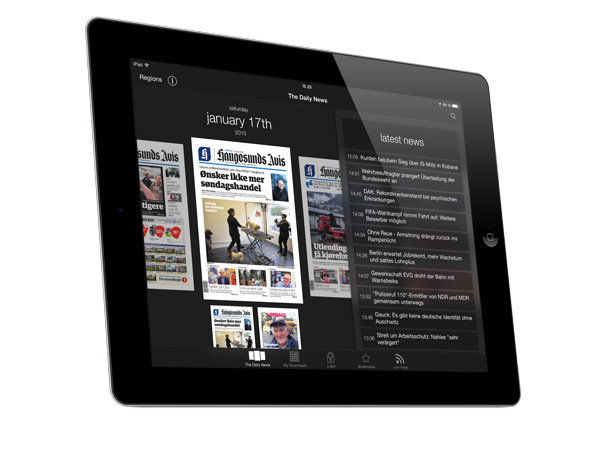 3. Publication Content and Live News
Combining Publication Content and Live News produces a vibrant starting page that is always up to date with the latest news. Publication Content is presented in a swipeable gallery, which gives the reader a visual entrance to the most important stories.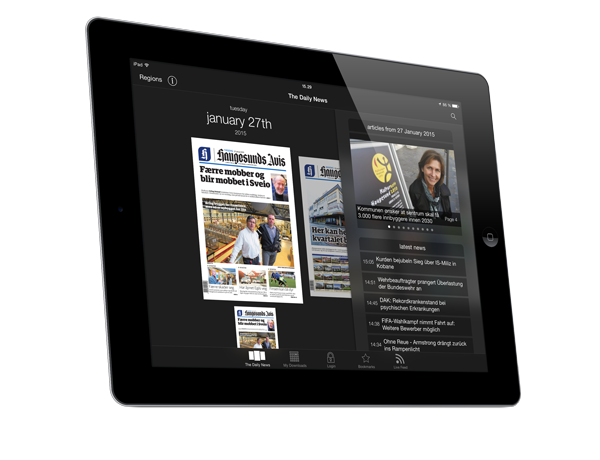 4. Web View and Publication Content
A Web View can be dedicated to the exact content you wish to promote on the starting page of your app. This could be a gallery of all the spare photos that did not make the printed paper, a gallery of videos to add audiovisual content to the app, or a promotion of your magazine app. The Web View is yours to fill. When combined with Publication Content, your readers will have the best of online and print.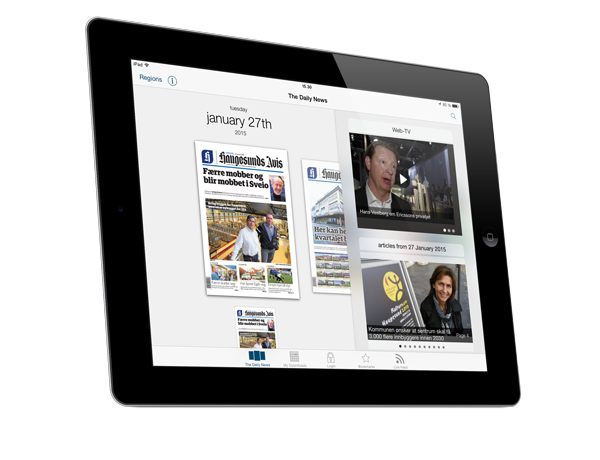 5. Web View and Live News
With a Web View, Live News and the printed paper, you can offer your reader the ultimate package of live lean-forward action and long lean-back reads.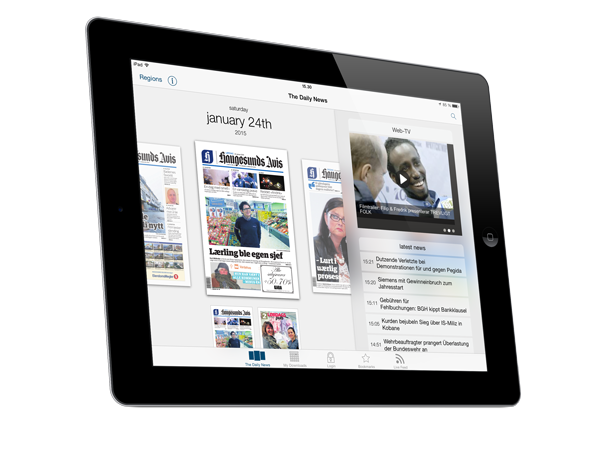 Each of the alternatives are available in both a dark and a light theme combined with a key colour. Texts are configurable, and you can choose whether to display the cover of each section under the cover flow. There is everything in the all but simple Standard app.