Would you rather listen to the article? Press play and have the article read aloud by the Text-to-Speech Google Cloud speech synthesis.
Since entering in partnership with Visiolink 19 months ago, German publisher Der Teckbote's digital subscription base has increased by 40%. There are of course multiple contributing factors to this great achievement, one of them being the user-centric approach to the ongoing development of their digital offerings. Der Teckbote's most recent ePaper project is a great example of this. Since launching the News Modules design on Android, the total time spent by Android users in the app, has increased by no less than 21.5%.
A small local publisher with a state-of-the-art ePaper solution
Through hard work and dedication, Der Teckbote has become a shining example of a local newspaper getting the most out of their ePaper solution. However, when talking to Steffen Maier, Head of Digital at Der Teckbote, he is always modest about their digital results so far:
"We are a small local publisher, situated between much bigger publishers here in the Stuttgart area. Nevertheless, it gives us great pride to see that our ePaper solution is up to the same high standards. When we first started our collaboration with Visiolink, I was happy to see our KPIs going up, but I also believed that at one point, the curve would have to even out. It didn't though. It keeps increasing, which is a great motivational factor to our team, " he says.
When asked to point out some of the causes behind their digital success, Steffen especially highlights the value of word-of-mouth recommend ations amongst their ePaper users due to a feature-rich and user-friendly solution. A message Der Teckbote also actively convey to their readers, through campaigns such as: "DIE TECKBOTEN-APP KANN MEHR ALS NUR ZEITUNG!"
New ePaper design receives positive feedback from Android users
Der Teckbote has a feature-rich ePaper, which offers multiple different content types including Live news, Audio articles, Videos, Prospekte, Supplements, Archive and more. Since implementing the News Modules design on Android, these offerings are now neatly organised into content modules on the app's front page. This appears to have had a positive impact on the user-experience amongst Der Teckbote's Android users, as Steffen explains that:
"There were never any complaints about our original Android design but now, users are actually calling in with positive feedback. They like that the News Modules design presents a clear overview of content and that they are now discovering more of our content offerings than before - especially the Historical flashback module is a great treat to our Android users."
With the News Modules design on Android, Der Teckbote has taken the opportunity to highlight archived ePaper publications via multiple different front page modules – including the Historical flashback module - as illustrated below.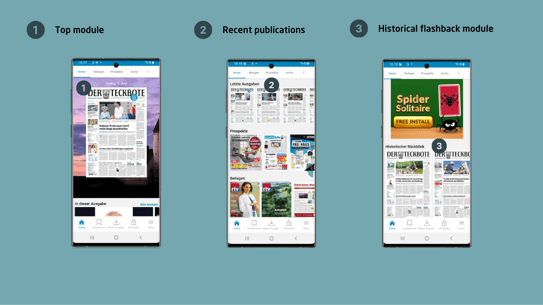 Since introducing this front page structure, Der Teckbote's publication downloads and openings have increased by 16.3% and 10.6% respectively. The same tendency goes for Der Teckbote's Prospekte, which has experienced a stunning increase in downloads and openings of 91.5% and 97.6% since launching the new design.
ePaper audio content complements user needs across age-groups
Yet another example of how Der Teckbote seeks to complement their ePaper users' needs, is their use of Text-to-Speech articles in their ePaper. Steffen saw opportunities in this audio offering early on, as it compliments user needs across age-groups:
"With Text-to-Speech, we compliment the needs of our senior users as well as younger users. The ability to listen to an audio version of our articles is highly appreciated by our visually impaired users. We have even avoided subscribers from churning due to this feature. At the same time, our Text-to-Speech feature also compliments the lifestyle of our younger users, who catch up on their local news on the go or while doing everyday chores," he explains.
While Der Teckbote's ePaper solution has a great stake in their ongoing digital success, there is absolutely no denying that at the very core of their increasing ePaper user engagement, lies their high-quality local content. This is Der Teckbote's raison d´être and where they create unique value for their users. Recently, Der Teckbote therefore also invested in Text-to-Speech based on Google Cloud across ePaper platforms to grand their local content special attention, and users are calling in with positive feedback on the improved voice-quality they are experiencing on local content.
Want to get inspired?
Have a look at Der Teckbote's ePaper solutions.