In October, WAN-IFRA published their annual industry report World Press Trends 2019. We've been reading through it, and in this blog post we highlight the most interesting findings of the report as we see it.
We've previously been talking about an industry-wide movement towards a more subscription based economy (as discussed in our latest white paper) and the World Press Trends report is backing this theory.
Download your copy of WAN-IFRA World Press Trends 2019 here.
Today, 54 percent of newspapers' overall revenue comes from circulation sales, and especially the digital editions and digital news sites are pushing these numbers. Thus, digital circulation revenues increased with 11 percent (year-on-year), and digital news subscribers increased 15 percent (yoy). Both of which are forecasted to increase further in 2019 according to the report.
In comparison, print circulation and advertising revenues both decreased. And the WAN-IFRA report claims that the industry is actively working towards more digital focus:
"Paying news audiences – print and digital – rose to $640 million per day in 2018, fuelled primarily by the continued strategy and growth in getting readers to convert to digital subscribers" – World Press Trends 2019
We've said it before, and we will say it again. The ePaper is enjoying great success and media houses all over are allocating still more resources to the digital edition, and understandably so. In fact, digital news subscriber numbers worldwide have increased 208 percent from 2013-2018 and are expected to grow by a further 13 percent in 2019. So, it's clear to see that their efforts are paying off.
The digital influx is, not surprisingly, happening fast outside of Europe – Asia in particular. But in our own longitudes, the best performance is expected in France, where digital subscriptions are forecasted to climb 34 percent on the back of 43 percent growth last year. Vive la France!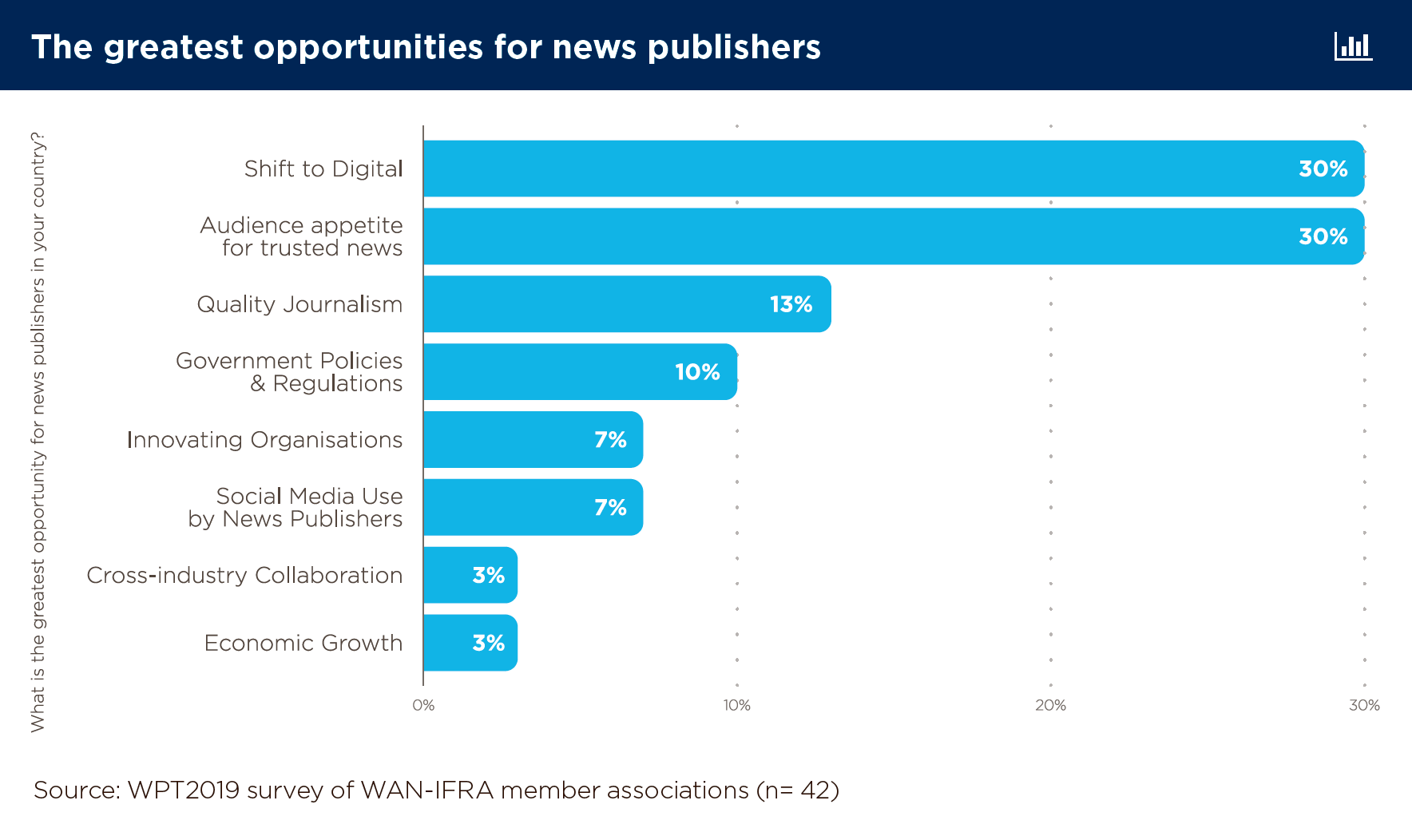 The World Press Trends 2019 report shows that the »shift to digital« and the »audience's appetite for trusted news« are the greatest opportunities for news publishers. It also brings some assertions regarding the economical state of the media industry:
"The global news publishing industry is resilient. Although it has not managed to keep pace with the wider economy in the decade since the global economic crisis, there are indications that the efforts of innovating publishers are paying dividends."
At Visiolink, we endorse this statement. We see that many of our clients, who have been giving much attention to their ePaper, are really starting to profit from their persistent work. That goes both for large national and international media houses as well as small, local and independent newspapers. It will be exciting to see if the digital editions take another leap in 2020 - we for one are positive that it will be another great year for the ePaper platform.