The Danish media group Jysk Fynske Medier is characterized by their consistent work of improving their digital business. Especially in terms of monetization and attracting new subscribers. Learn about their latest onboarding campaign in this customer case.
In Mid 2016, Jysk Fynske Medier created a Data & Audience team with the mission of optimizing advertising and subscription sales. It was a large investment of 30M DKK (4M €) over a three-year period, but the return on investment have already proven to be significant for Denmark's second largest media company.
Read also: Jysk Fynske Medier earned millions on ad sales with very little effort
Most recently, Jysk Fynske Medier have been running a voucher campaign offering potential customers a month complimentary access to their subscription newspapers.
"We made a thousand vouchers for each of our 13 daily newspapers and offered these through various channels. That being on a landing page, through Facebook campaigns and directly in the Nyhedskiosken app, where we expose it as interstitials in the non-gated weekly newspapers. This has been a very interesting case for us and we sent out the first 4000 vouchers in no time." says Dennis Vesti Brorsen, Head of Data & Audience.
Example of one of their Facebook ads: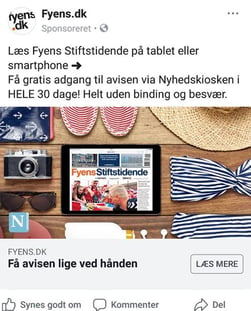 He tells that the voucher campaign has generated just short of 5000 leads by now with approximately 4500 coming from their Facebook campaigns. And the result speaks for itself. So far, they've been able to convert seven percent of the leads to a paid subscription.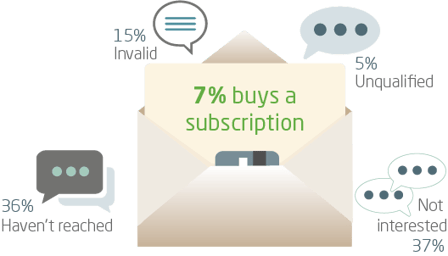 Voucher codes on text messages
The campaign has undoubtedly been a success, but there is still room for improvement and Dennis Vesti Brorsen points at the invalid leads - that being leads who've provided an invalid phone number - as a group that can be reduced with a simple fix.
"The challenge has been to ensure a good lead quality. We know that the email address is genuine, because this is where we will send the voucher code. But the leads do have the option of providing a fake phone number making it impossible for our telemarketing team to reach them. So, we want to try sending out the voucher codes on text messages instead. That way, we ensure they provide a genuine phone number," he explains.
36 percent of the leads have been unreachable so far while 37 percent are simply not interested in buying a subscription. The remaining five percent are unqualified e.g. because they already holds a print subscription of one of Jysk Fynske Medier's newspapers. Dennis Vesti Brorsen says that the latter is a group that they instead try to encourage to use the digital editions even more, because »digital users have proven to be more loyal.«
Want to track the usage of voucher codes
Vouchers can be generated by Visiolink for a symbolic fee and can be made with a single generic password or multiple unique passwords. Jysk Fynske Medier chose the latter because they want to track how often the voucher codes are used by the individual user once this is possible.
"We are currently awaiting an update of our app which will enable us to closely monitor the usage of each voucher code through Google Analytics. By doing so, we will know when a specific lead has logged in 15 times for instance and this is highly valuable information for our telemarketing team who will try to convert the trial to a paid subscription," he says.
Jysk Fynske Medier previously enjoyed great success with a trial-campaign that offered a combi-subscription at a reduced intro price of 49 DKK (6,50 €) the first month. The campaign led to an increase of 50 percent in combi-subscription and an impressive conversion rate of 23 percent. Dennis Vesti Brorsen shared this story at the Inspirational Tour in Oslo early this year. Watch his presentation above.
Make your own voucher campaign
If you're interested in trying out a voucher campaign yourself then don't hesitate reaching out to your Visiolink contact. They'll be more than happy to help you get started.