We love to meet our customers. That is why we travel a lot around Europe and why we invite you to visit our offices in Aarhus.

We love to listen to our customers. This is an important element in continually improving our service for you.
We simply want to be in constant dialogue with you to understand what your challenges and possibilities are. Additionally, we would like to give you some of our insights.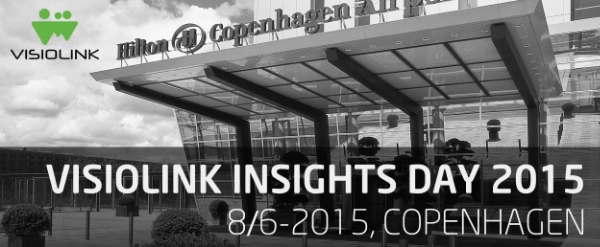 However, we also know that the people you often get the best inspiration from are your colleagues from around Europe, who face the same challenges and opportunities as you. We are currently preparing for a full day with our customers, mixed with some international inspiration.
Visiolink Insights Day 2015


8th of June 2015
Hilton Copenhagen Airport Hotel
Copenhagen

This will be a unique opportunity for you to learn, to be stimulated, to become inspired, to set the scene yourself, and, of course, also to network with your peers in a very pleasant environment in Copenhagen. And for a perfect finish to what we hope will be a fruitful day, Visiolink invites you to dinner at the Hilton Airport Hotel.

So please put this unique event in June 2015 into your calendar.

Please sign up here if you want to receive more information about this Visiolink conference in the coming weeks and months.