Since yesterday's Apple keynote with the presentation of the iPhone 6 and 6 Plus, we have been reading, studying and experimenting with the Gold Master seed of the development tools and iOS 8.
Update on iOS 8
We have previously talked about the possibilities in iOS 8, but now we have tested a variety of our customers' existing apps on the Gold Master version of iOS 8 – and we have not found any issues with them.
In a previous beta, iOS 8 would place 'action sheets' in wrong positions. This could be seen when tapping a newspaper in 'My Downloads' while it was loading. Apple has fixed this issue with the Gold Master release of iOS 8.
The new iPhones
The development tools released yesterday evening contain simulators for both iPhone 6 and iPhone 6 Plus. Here are our current findings – but please bear in mind that we have tested in simulators only, and not on the actual devices – so our findings are not conclusive.
The iPhone 6 and 6 Plus introduce two new screen sizes. These sizes are:
| | |
| --- | --- |
| iPhone 6: | 1334 x 750 |
| iPhone 6 Plus: | 1920 x 1080 |
Compared to the iPhone 5, which is:
If you look at the format – the ratio between height and width – we have:
| | |
| --- | --- |
| iPhone 6: | 1,779 |
| iPhone 6 Plus: | 1,778 |
| iPhone 5: | 1,775 |
These ratios are very close – and this means that Apple can automatically scale existing apps to the size of the new screens.
We have tried this with the simulator – and the results look very promising – well, they actually look awesome!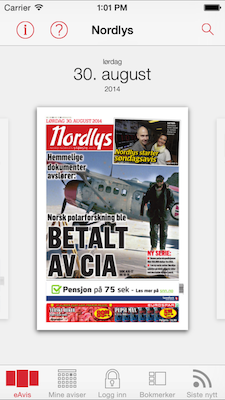 A sample image from the simulator
Retina HD
With the iPhone 6 Plus, Apple also introduced the concept of Retina HD. This means triple the pixel density of non-Retina devices in each dimension. In other words 1 pixel non-Retina equals 4 pixels in Retina and 9 pixels in Retina HD.
Therefore, we now have the opportunity of supplying not just non-Retina graphics, but also Retina and Retina HD. While this is a lot to digest, it should also be noted that the step from non-Retina to Retina doubled the pixel density. The step from Retina to Retina HD is just a factor 1.5. This means that automatic scaling from Retina to Retina HD should look better than the scaling from non-Retina to Retina.
This is what we know so far about Apple's two new iPhones. We cannot wait to get our hands on them!
Finally: remember to update your Connect contracts
Apple have updated contracts and licence agreements. Please go both to iTunes Connect and review the latest contract – AND go to your Apple Developer account and make sure that the latest agreement is accepted.


by Morten Bek Ditlevsen, Software Developer