Did you attend this year's WPE15? If you didn't, here is a sum up of how we experienced the world's largest trade fair for newsaper and digital publishing solutions. More than 7,000 visitors and 200 exhibitors from countries all over the world participated in the event – making it a big success. The World Publishing Expo runs every year in a different city, this year in the vibrant Hamburg, which was a perfect setting for hosting customer meetings and meet up with industry peers. Here's how it went.
Monday – Get Together
On the first day of the expo we were all excited and hoping for a great first day. And we got our wish! We had an inspiring day together with market leaders from different parts of the world. The scene was set for two more days filled with inspiration and new acquaintances.

Tuesday – 40 People on a Bus
Tuesday was a great day! Not only was our Business Intelligence unit represented by the CEO of Visiolab, Jens Funder Berg, who spoke at the Mobile News Summit Conference, we also had a very special group of people visit us. Well, more on that a bit later.

Jens' presentation focused on how data can play an important role in converting readers from printed newspaper to become tablet and mobile readers. Keep an eye out for upcoming blog posts where we'll go more into depth with Jens' presentation of how to use data on reader behaviour to grow newspaper businesses.
In the evening, we were lucky to be one of the sponsors of the Expo Get Together event, where visitors got the chance to network after an exciting first day at the trade fair.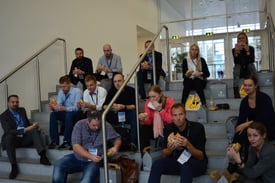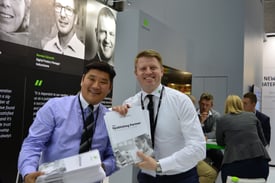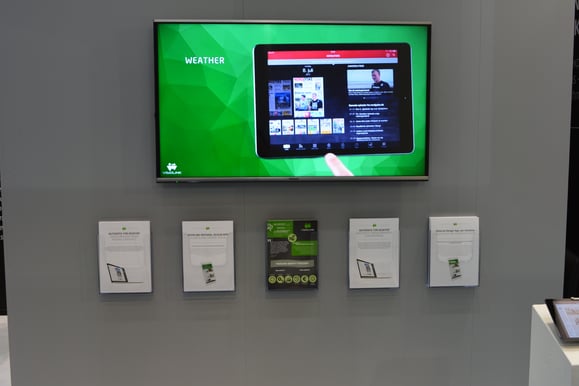 At Visiolink, we believe it's important to involve each other in what we do. That's why 40 employees jumped on a bus in Denmark at 6 AM and drove all the way to Hamburg. All departments were represented, which gave visitors at the exhibition an opportunity to have a dialogue on everything from products and technology to customer care.
True to tradition, we invited customers, industry peers, as well as potential customers for a beer at the booth in the evening.

Wednesday – the Winner has been found
Wednesday the 7th, was the final day at the exhibition, and it was time to say goodbye after three successful days. It was also the day, where we found the winner of our WPE15 competition – Péter Komlósi from Hungary. He was the lucky winner of the new Samsung S2 Tablet. He describes his experience at our booth:

"I liked it very much. The team was kind, helpful and well-prepared. I was pleased to have useful, informative and striking conversations in Visiolink's calm and well separated presentation corner - and I loved the Carlsberg beer".
Congratulations to Péter Komlósi with his new tablet!

We would like to thank everyone that visited our booth at the WPE15 in Hamburg. We really enjoyed meeting our customers as well as new acquaintances who showed up to take part and learn more about the future of digital publishing solutions. We are looking forward to seeing you all again next year in Vienna.
Click on links below to learn more about our digital publishing solutions can benefit you. We especially recommend you to have a look at the new Visiolink Benefit Program, which ensures that your publication is always available to your readers regardless of upgrades from Apple, Android, or Windows.