Last week – after the World Publishing Expo 2014 – during the 800 km drive from Amsterdam to Aarhus in Denmark, I had time to think about the experiences I was bringing home.
I really liked our stand, the activity level and the way we were able to use the opportunity, but most importantly this was a chance to meet and network with new media houses and discuss their challenges, as well as chat with existing customers about what they are working on now and where they are headed.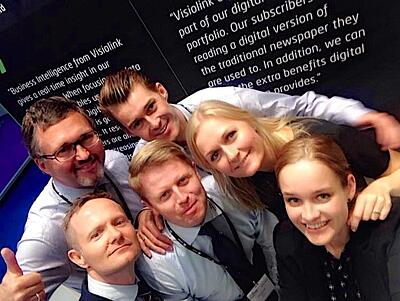 Visiolink Team
At the Expo we focused on our latest developments in mobile publishing for smartphones and tablets in areas like rich media ads, business intelligence and new designs for the automatic DYNAMIC visualisation of content.
But sometimes, by focusing on exciting developments and possibilities, it is easy to forget other important aspects of the business.
Do you know, for example, which digital platform is still crucial in the platform-mix of news readers today? The desktop and laptop. Our AUTHENTIC platform on these devices still has no less than one third of the usage share of the total data feed to the readers.
This shows the importance of continually focusing on the business intelligence part of being a media house – e.g., what platforms are your readers on, and when are they on different ones, be it paper or digital.
This is one reason why, in the news world, we have to be ever so careful when it comes to making quick decisions on our hunt for new features and possibilities. Yes, new reading formats are great and important, but we should never forget the readers who have already taken the first steps on the ladder of digital transformation.
Questions to ask yourself
How many of your readers are digital readers? For some media houses, this is a two-digit percentage; for others, it is a single-digit number at the lower end of the scale.
Do you know when and where your readers use your content? Some media houses succeed in engaging their readers several times during the day.
Transformation or disruption?
A last thought from my 800 km drive: What is the difference between transforming and being disrupted? In a transformation, you move to avoid hitting an oncoming wall; in a disruption, you stand still, and that wall nearly wipes you out.