German newspaper Nordwest-Zeitung (NWZ) has a very popular ePaper, and they have obtained a subscriber base that exceeds even their own expectations. Through an innovative yet customer-centric approach they've succeeded in accustoming their readers to the ePaper.
With 15.000 ePaper subscriptions, the digital edition accounts for nearly 14 percent of NWZ's total subscriber base. In order to reach this level, the Oldenburg based newspaper took creative measures. They opened a store for the sole purpose of selling their digital products, and half of the ePaper subscribers were onboarded through a "Bundle offer" which is basically an alternative installment plan for a tablet.
"A few years ago, we opened the NWZ Media Store in the Oldenburg City Center. In the store, specially trained people from our company could explain potential customers the benefits of choosing a bundle offer. And all the activities in the store were concentrated on selling the digital version. So that's a big factor in the success we're experiencing" says Dirk Poelmann, Senior Product Manager at NWZ.
The NWZ Media Store is closed today, but all the store activities have now been moved to the NWZ headquarters. So, customers can still go there if they want to get the tablet bundle, need technical support etc. Just as if it was a regular store.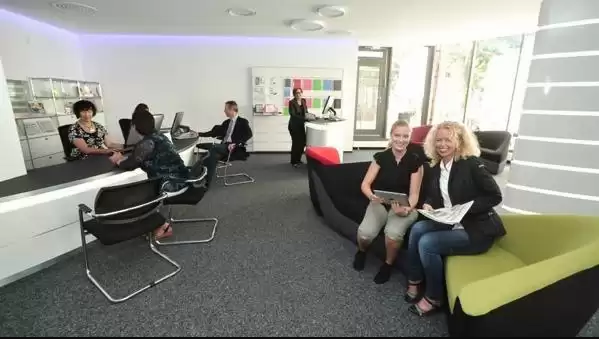 NWS Media Store (picture) opened in October, 2012, but closed down after two years, when the German newspaper decided to move the store activities to their headquarters in Oldenburg.
Depending on which device the customer wants, down payment and additional installments may apply to the bundle offers. But they all come with a subscription for the NWZ ePaper with an extended binding period of two years.
"If you look at how we sell our ePaper as an addition to the tablet, big part of it is to make our customers loyal. A regular digital subscription often just has a binding period of one to three months, but the bundle offers give us extra time to make the readers more loyal and accustomed to the ePaper and other services," he explains.
Read more: Volksstimme on new iOS-app: Readers are in for a treat!
Big focus on the ePaper
The influx of new ePaper subscribers is a very important factor to NWZ's overall business strategy, Dirk Poelmann says.
"Print sales are declining and the ePaper is one important part of keeping our subscriber level high and to work against lower subscriber rates."
And the increased focus on the ePaper extends throughout the organization.
"We have integrated the ePaper in all of our sales, service and communication activities. So, it's part of most of our campaigns. For instance, we have our Holiday Service which means that if you are a print subscriber and go on vacation, you can say: don't send me the printed paper but give me access to the ePaper instead," he says and continues:
"Every service center agent in our company is able to solve first level technical problems the client might have, so there's rarely any need to connect them to two or three other people in the house that might have an answer. Every promoter on the street can explain the product in detail. We have bundles and we offer help to our elderly clients to train them in using tablets."
Read more: Experience the new sh:z app in action
More readers prefer the ePaper
The NWZ ePaper receives great reviews on App Store and Google Play, and according to Dirk Poelmann this has a lot to do with the fact that NWZ does a lot to please their subscribers and help them get the most out of their solution. And they gradually try to make all their subscribers accustomed to using the ePaper by including it in their various subscriptions.
"We've started offering free access to online services as well if you're an ePaper subscriber. Or if you're a print subscriber, then we'll offer them an ePaper account for a different local edition, so we try to bundle the access to the ePaper with access to other services. Hopefully that will make them even more loyal," he reflects.
"We have three branches – print, web and ePaper - and the latter is getting more and more important. Many print readers are switching to the ePaper because it's easier to use, more on time, and, at the same time, it's less expensive. Our ePaper costs about 27 euro and in comparison, it's about 8-10 euros more if you want the printed newspaper delivered to your home depending on where you live."
The Nordwest-Zeitung ePaper includes seven local editions and a digital archive with issues dating back to April, 1946 where the German newspaper was established.