We offer 3 new features that help the digital publication to become interactive. All of the three features keeps the reader in the newspaper universe, thus increasing loyalty towards the paper.
Weather forecasts in your app
Now you have the opportunity to offer your readers access to an interactive weather forecasts. The weather forecast opens in an in-app browser, accessed either from the front page of the app or inside the paper of the day - for instance at the same location as in the printed edition. Interactive weather forecasts can only be accessed in online mode.
Readers can choose between local, national and international forecasts. Easy to understand graphics and navigation updated to cater for smartphones and tablets make for intuitive use.
When the reader turns to the page with the weather forecast it will flash a couple of times to indicate that it is clickable. This solution is recommended for magazines.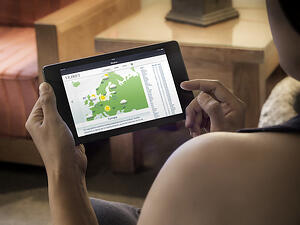 Engage your readers with interactive crosswords
Now your readers can to crosswords inside the newspaper app. They can do so in one of two ways:
Access the crossword from a menu button on the front page of the app.

Access it from inside that day´s paper, for example the same location as in the printed newspaper. The crossword opens in an in-app browser with the title bar of the newspaper app along the top, enabling readers to return to the page in the paper where the crossword is located.
Once the crossword has been accessed in online mode, the solution allows the reader to save what they have filled in and subsequently access the crossword when offline.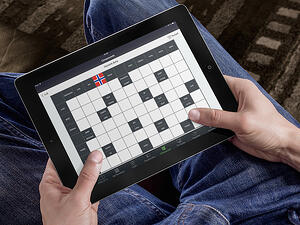 Ad extra value in the form of a TV guide with continuous updates
Keep the readers comfortably ensconced in the newspaper's universe, with a TV guide there will suit their own needs. The readers have the choice of some 150 channels and the overview shows programmes for the next seven days. Readers can also select different time intervals during the day and sort programming by category (film, sport, serials, entertainment, etc.). Readers can select a programme and see more in-depth information. Many films also have trailers they can watch.