Would you rather listen to the article? Press play and have the article read aloud by the Text-to-Speech Google Cloud speech synthesis.
Like any other news publisher, Danish specialist media L-Mediehus gradually devotes more resources to the digital transformation of its business model. Through focused campaigning, they are turning more and more print subscribers into digital subscribers. Recently, they invested in a design update of their Android solution, and this is a great example of how L-Mediehus continuously seeks to advance its epaper game by ensuring the best possible user-experience across digital platforms.
A traditional publishing house embarks on a digital journey
L-Mediehus is a traditional media house with a specialized focus on the agriculture and food industry. Their history dates back to 1983, where LandbrugFyn was first published. Today, L-Mediehus' portfolio counts a total of five titles: One national daily newspaper – Effektivt Landbrug –, four weekly regional newspapers – LandbrugFyn, LandbrugSyd, LandbrugNord and LandbrugØst –, and adding to the list: Several supplements and magazine titles.
L-Mediehus started its digital transformation almost seven years ago but has particularly accelerated its digital presence within the last three years.
"Today we are present on several digital platforms. However, it started out with not much more than a news website. We now have employees who are 100% dedicated to our digital presence and handling everything from newsletters to online advertising, SoMe, and our epaper, which is available for both web, iOS and Android users," says Mikkel Kokholm Jørgensen, Sales Director at L-Mediehus.
L-Mediehus offers all its publications in both print and digital versions but lately, especially the epaper subscription base has started to take off. Within the last couple of years, their journalists have also started producing digital-only-content.
A growing digital subscription base
It has been no more than three and a half year since L-Mediehus launched its epaper app and thereby introduced its users to subscribers-only-digital-content. L-Mediehus' epaper app is called Landkiosken, and grants subscribers access to all L-Mediehus' newspaper titles, supplements and magazines. Today, their digital subscription base accounts for around 30% of their total subscription base – a number which keeps increasing.
"We are converting more and more digital subscribers. Within the last year alone, we have increased our digital subscription base with 10%. This is great and in line with how we are trying to drive a digital transformation of our business model. Put simply, digital subscribers present a better business case in relation to costs than print subscribers," Mikkel explains.
The increase in L-Mediehus' digital subscription base has not come about without effort. L-Mediehus has invested in targeted marketing campaigns, informing both existing and potential subscribers about their digital universe – Landkiosken –, and the advantages of a digital subscription. According to Mikkel, a big part of their success also comes down to a strong telemarketing campaign:
"Apart from advertising campaigns, we have also invested resources in telemarketing. We have proactively been calling existing subscribers and informing them about our digital subscription to Landkiosken. Presenting existing subscribers two main arguments – cost savings and a great user-experience – has helped us converting a large proportion from print to digital," he explains.
The user-experience and stability of Landkiosken is crucial
Like any other news publisher, L-Mediehus also has to handle customers calling in to cancel their subscriptions. However, L-Mediehus has found that by including Landkiosken in their dialogues with these callers, they are able to prevent a substantial part of them from churning.
"We discovered that some of the primary reasons why customers wanted to unsubscribe from our printed newspapers, were unstable delivery and too high a price point. When informed about the possibility to subscribe to Landkiosken only, and avoid these pains, we have actually avoided several subscribers from churning," Mikkel says.
He further points to the great usability of their epaper offerings, as one of the primary reasons why they are experiencing a high level of satisfaction amongst Landkiosken's subscribers.
"The way our apps are designed, with the publication at top followed by modules presenting different types of content, makes it easy and intuitive for our users to navigate our apps. It gives them a structured overview of what we have to offer and where to find it." he explains.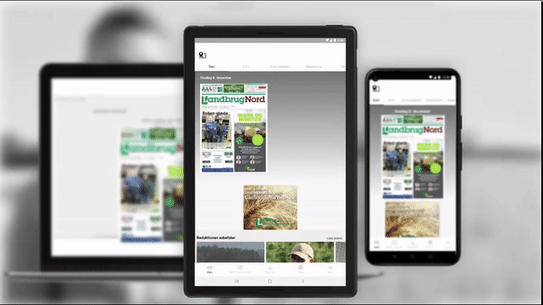 Lankiosken's apps are designed according to the News Modules concept. However, it was not until recently that their Android solution was updated to the same design. Aligning the user-experience across platforms and operating systems has long been on top of L-Mediehus' wish list.
"With the same design across our iOS and Android solutions, we wish to strengthen our brand identity and simplify our customer support. But the main driver behind the update, was to give our Android users the same intuitive navigation experience as our iOS users," Mikkel explains.
Want to know more about the news modules design on Android? Read more about the design right here – or learn the benefits of the News Modules design by reading our latest blogpost, right here.