For many newspapers and magazines, it can be a challenge to establish a thriving and growing revenue stream from e-papers.
You may even have already developed a loyal digital readership via the digital newspaper, but maybe these converts are mostly just your existing paper-readership and you have not yet attracted the new readers you had hoped for.
Even though this exact transformation to an online process is imperative, it is equally important to link the process of gaining more and more digital readers with the process of establishing new digital revenue streams. These two processes are related to each other. Let us look specifically at the e-paper and the relationship between:
The number of readers on the e-paper platform, and
New revenue from different ad offerings to your advertisers.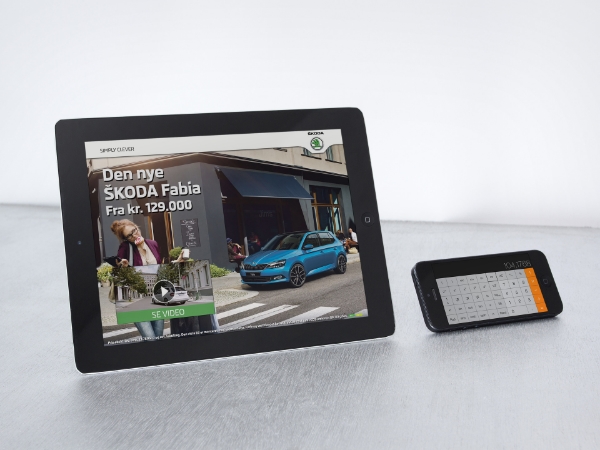 The relationship between gaining readers and generating new revenue is in many ways both simple and complex. On the simple side: if you have no readers, you will sell no ads.
This means that right from the start you need to focus on establishing a solid readership of the e-paper - preferably on all the common platforms, i.e. the web, smartphones and tablets.
One way to measure this readership is to compare the number of digital readers to the number of users that consume the same content via the printed newspaper.
It can be difficult to be bold and to set specific numbers for success, as national, regional and local markets differ a lot. But in general it is fair to say, that if you have a digital readership that is below a 4–5% share of your total reach (comparing the number of downloaded newspapers on the digital platform with the print run of the print paper), then maybe you should first concentrate on the digital conversion of your existing paper-readership.
It is important to remember, that it is possible to have a value creating business with just a small percentage of digital readers, but you will have a difficult time attracting and establishing new revenue from advertisers on the platform to supplement the revenue from the readers.
Therefore, you most likely will want to increase the number of readers of your e-paper. To do this, you could look at the value-adding features that many of your readers could be requesting, in particular:
One of the most widely used features is Article View, which gives readers the choice of a replica view and a reader-friendly text format, which still allows room for photographs and graphics.
Optimized viewing formats for the tablet platform. In a former study we concluded that both replica (AUTHENTIC) and template view (DYNAMIC) enjoyed a large preference (about 50/50) among different segments of your total number of digital readers.
Embedding other news channels in your e-paper, such as online news feeds and video feeds (via Advanced Starting Page). Here, you again enrich your existing platform to engage different readers' personas.
New revenue streams from digital advertising
If you have a digital readership over the 5% mark, there is an excellent chance that with this foundation you can establish several different new revenue streams from your advertisers.
Let's say that you have a replica-based digital newspaper with no extra advertising features implemented. This only makes the existing ads in the printed newspaper visible to your current digital readers. That is fine in itself, but it does not give you new advertising sales.
A 3-step guide to ad implementation
The following is a recommendation on how you could gain from these new revenue streams in just three steps. There are two good reasons why this is a three-step implementation guide and not just a recommendation to you to utilize all the advertising options from day 1:
You should start out with an advertising platform that is the easiest to implement before progressing to more complex and enriched advertising solutions.
You need to learn from what is happening with the engagement of your readers and advertisers before moving on to the next step. Data, information and knowledge are crucial here.
OK? Let's move on to step no. 1:
Step 1: Implement Clickable Ads
Clickable ads are a simple, but very powerful, add-on to e-papers. They give you the opportunity to add a link to an advert, which, in the printed paper, would usually only be displayed as a picture. With an e-paper, the user clicks on the ad and is directed to the advertiser's website or landing page. This all happens in an in-app browser, so the user remains within the newspaper's realm.
Step 2: Implement Interstitial Ads
Interstitial means "in between" and refers to advertising inserted between a newspaper's digital content. Interstitials function as digital, one-page adverts that are added between pages and are thus a natural part of the newspaper's flow.
They place the entire focus on the advertiser's message, which the reader can learn more about by reading the advertiser's website or campaign page, which pops up by clicking on the ad. With the aid of Google Analytics and Business Intelligence, the number of displays and 'clicks' can be measured.
Step 3: Implement Interactive Ads
Interaction is in many respects what digital is all about. You can offer your advertisers a Rich Media ad product for the e-paper that will make readers stop in their tracks and interact with the message.
Read more about the interactive ads here.
Remember… Measure, Measure, Measure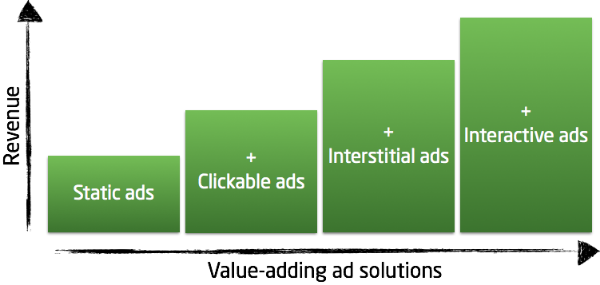 You must continually assess what you have learnt regarding the number of readers, engagement times, etc. This must be done to ensure a correct timing between the different steps and to help you decide how and when you should engage your sales department in the effort of drawing in advertisers to your new digital advertising solutions.
---