It's often the little things that make all the difference. And with a simple push notification you can easily increase retention and reader loyalty. Through Google Analytics you are able to create segments that will ultimately increase the impact and the click-through-rate (CTR) of your push notifications.
In a busy daily life your readers might occasionally forget to open the e-paper and read today's news. So, sending out push notifications can be a great and effective way to increase the likelihood of you users being activated and taking your e-paper into use.
Many media houses send out push notifications to inform the readers that the new edition is available - either in the morning or in the evening before. But if you really want to gain from this feature you need to make more relevant an engaging notification messages as this will drastically improve your CTR.
In fact, a recent study has shown that if you use push notifications "the right way" the CTRs are as high as 40 % – compared to for instance email CTRs that are merely around 5 %.
Below are some examples of push notifications from Politiken, Dagbladet and Volksstimme. The latter use the notifications to highlight a couple of the stories in today's edition, while Politiken dedicate the individual push notification to the single story they believe to be most likely to activate the reader.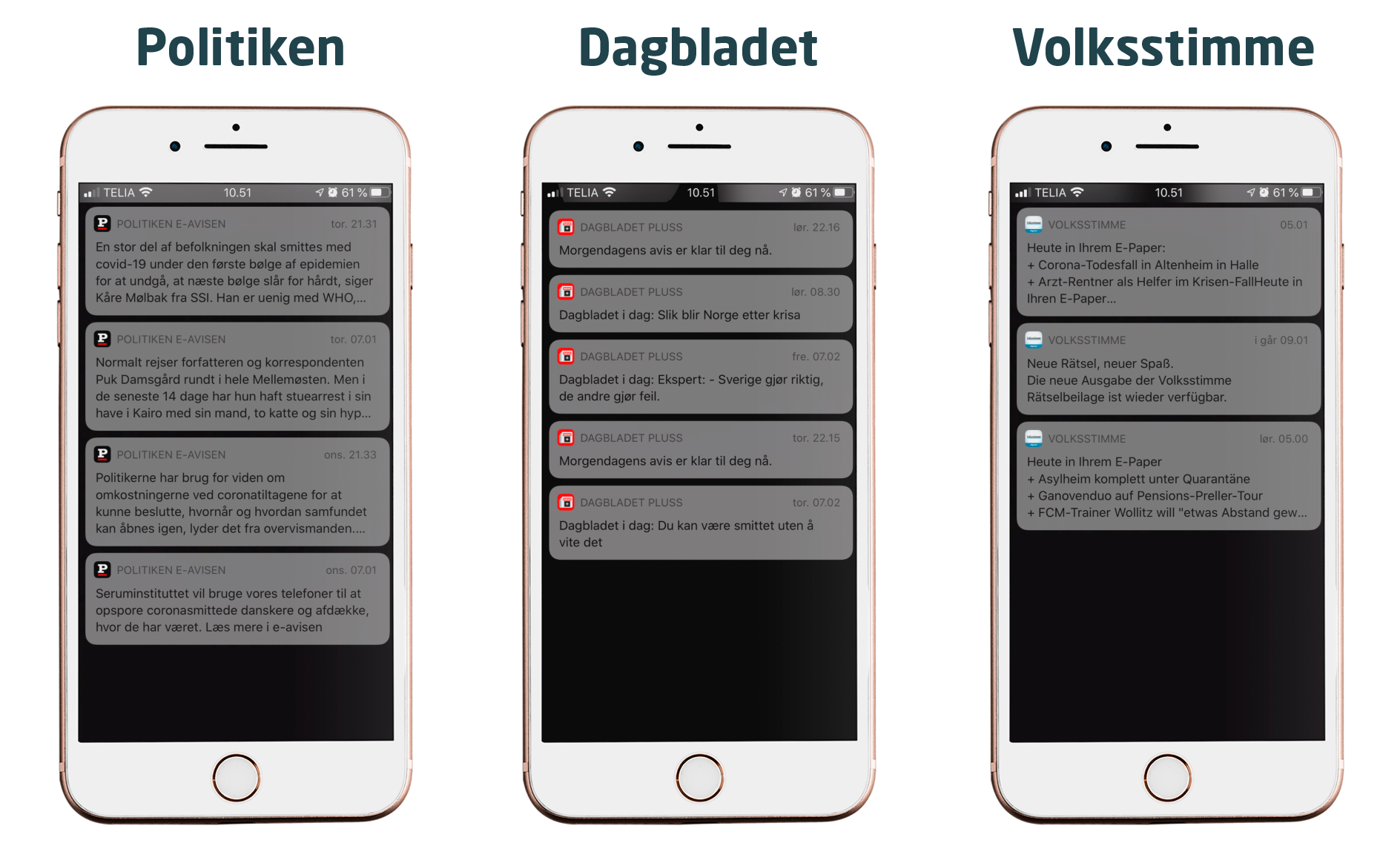 It's hard to say exactly what "the right way" to use push notifications is, but there are a few rules of thumb that you should always be aware of when making your push strategy. First there is the timing of your push notifications.
In general, the best time to send push notifications is between 7-10 in the morning and between 18-22 in the evening where the users are most likely to be using their devices. These time intervals also happen to be where we register the two spikes in ePaper openings and publication downloads supporting the thesis. You should avoid sending push notifications at night, between 24-6 o'clock when your readers are typically asleep as you risk disrupting or waking them up. This may cause them to impulsively clear out the screen from notifications – or in worst case turn them off completely because they don't want to be disturbed in the middle of the night again.
With that being said, there's nothing that prohibit you from sending out push notifications more than twice a day. If your notifications create value for your readers, and you're a master of hitting the sweet spot, then by all means send more. But you should avoid sending out too many as this is also a common mistake made by many mobile and tablet app owners. Doing so will in most cases result in your users deactivating push notifications.
Create segments in Google Analytics
User segments can be created on the basis of your Google Analytics data. This is especially helpful if you want to exploit push notifications for engagement and retention/anti-churn purposes.*
In the video below, our Business Intelligence Specialist, Kasper Heyst Thomsen, gives a quick walkthrough on how to build a segment in Google Analytics.
A couple of years ago, we invited the three Danish newspapers Kristeligt Dagblad, Politiken and Herning Folkeblad to our headquarters to discuss how they each work with reader segments on a daily basis. (See video here) This knowledge was pivotal in the development of our feature – Segmented Push.
One of key learnings back then was that in order to truly fulfil the potential, you should connect with your CRM system in order to create segments based on more accurate demographical data such as age and gender. Or use the subscribers' city of residence as a segmentation parameter and start promoting stories from the local area. The sky really is the limit.
What's the fuss about push notifications?
Push notifications – at least in relation to smartphones – were first mentioned back in 2008 during Apple's announcement of iPhone 3G and App Store. But it wasn't until a year later that they actually launched the service. Today, it's difficult to find an app that don't offer push notifications. And that applies regardless if you're running iOS or Android.
But what's the deal about these somewhat intrusive pop-up messages? Isn't it just spam that will annoy the user? Well, it can be. But as a matter of fact, push notifications have also proven to increase retention as much as 20 percent. Especially, if they're personalized to the individual user.
Segmented Push enables you to do just that.
And the likelihood that your readers will actually engage with your ePaper following the receipt of personalized, behavior-triggered push notifications is up to nine times greater compared to notifications that are generic. (Source: "Personalize or Bust: The Impact on App Engagement", report by Leanplum)
So, it's fair to say that sending out push notifications to defined and thought-through user segments can prove to be a real game changer that will engage your readeres and ultimately make them even more loyal.
Want to know more?
If you want to learn more about the technical setup around Segmented Push and how the feature can come to your benefit, then feel free to contact our Business Intelligence Specialist, Kasper Heyst Thomsen, khe@visiolink.com
Your Visiolink contact can also help you with queries about Segmented Push and User Tracking and how these can be implemented in your current solution.
*In order to exploit the full potential of the Segmented Push feature, e.g. for anti-churn purposes, it's a prerequisite that you have the User Tracking extension in your solution. This enables you to link the Google Analytics data to individual subscriptions and not to devices as per standard.