With a digital subscription, readers from across the world can now follow the latest news from Nordkapp Municipality, located in northern Norway. This is true reader engagement.
Even if the region's inhabitants continue to move away from their hometowns in pursuit of work or study opportunities, they still want access to news from back home. Such is the idea behind Finnmarkposten's recent offer to its subscribers, who can now read and engage in the newspapers on their tablets and smartphones.
"We are extremely confident that a digital app version of Finnmarksposten will be of interest to most of our subscribers, both in Nordkapp and wherever there are people with ties to the region. That's why, even as a small-market newspaper, we've decided to invest in a digital product," explains Tore D. Løkke, IKT manager of Finnmarksposten.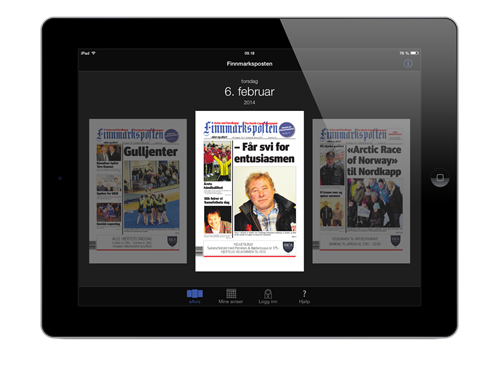 Finnmarksposten is a weekly newspaper based in the town of Honningsvåg, a part of Nordkapp Municipality. As its name suggests, this municipality is located in the very north of Norway – a drive of 2,282 km from Kristianssand in the south.
"The municipality has been hit by depopulation, and former residents of Honningsvåg and the rest of Nordkapp are scattered around the world. People from Nordkapp have always been known for their keen sense of local pride – as well as their interest in the goings-on back home. That's why we believe that many emigrants will be willing to purchase a digital subscription," Løkke concludes.
Finnmarksposten, a weekly newspaper based in Honningsvåg, Norway, was founded in 1866 and is today owned by Amedia AS. The newspaper has a circulation of 1,259. Editor-in-chief and daily manager: Sverre Joakimsen.