OK, I'll admit it – I'm a gadget owner. In my arsenal of devices you'll find:
a 2005 iPod – a trusted friend who carries all of my music and is soon to be on its 3rd battery;
an iPhone for – mostly – communication;
a Macbook Pro for work, e.g. writing blogs like this;
an iPad for reading newspapers (surprise!) and keeping my work day as digital as possible;
a Kindle Paperwhite for book reading; and
a Garmin GPS watch – supposedly for when I go running, but currently it's just glaring impatiently at me, as I am having a break because of a few bent ribs (ouch!).
And all of these digital devices are a huge part of my daily life (okay, Garmin, not you just now, I get it!).
However, I still love to relax holding a book in the evenings – and so does my wife. Both avid readers, we still mostly read printed books. I'm not too fussy about the subject – Stephen King to business literature, and much in between. In fact, I realised recently that I'm even reading about digital devices and services in paper books – a sure sign of how far reading habits have changed.
Let me give you an example of this change, as I find it quite intriguing.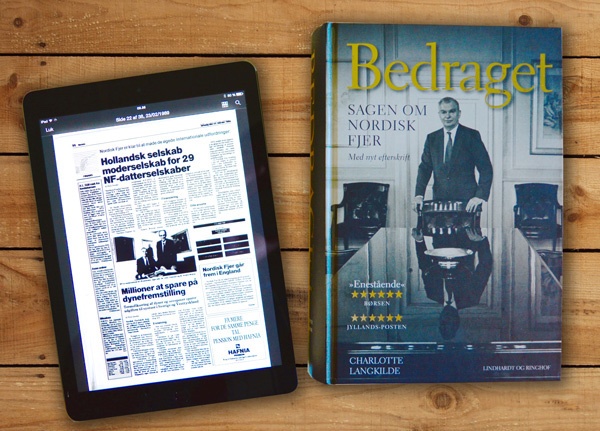 I started reading a Danish business book – "Bedraget – Sagen om Nordisk Fjer" (Betrayed – The Case of Nordisk Fjer) by Charlotte Langkilde. It's an incredible story about one of the biggest business fraud cases in Denmark, which happened in the 1980s and early 1990s.
Yet, after such a fantastic read, I started reflecting on my process of reading it and found that my reading habits have changed owing to valuable newspaper archives now being accessible on digital platforms.
You see, every time the author cited a newspaper source, I found myself putting down the book and reaching for the iPad. Why? To find the quoted article in the digital newspaper archives of e.g. "Politiken" or "Børsen".

Reading the original articles in the original layout was an entertaining experience and augmented my pleasure in reading a fantastic book. I just felt even more engrossed in the unbelievable situations and betrayals going on within this company throughout so many years. And it especially helped me to grasp the scale of the personal cost for the many people who were influenced by others' crimes.
So, I'm sure I'll keep up this new reading habit of using HISTORIC digital newspaper archives – even when reading the good old paper books.
---