The newspaper business is constantly changing. More media companies are considering new strategies to keep up with an industry in which readers are moving away from printed newspapers and are embracing new, easy-to-access digital versions.
This development means that media houses are looking for new solutions to help them gain more readers and avoid losing existing readers.
How can you increase the chances of making your ePaper a success? One publisher chose to differentiate pricing, which proved to be an effective strategy for generating more readers. Let's take a look at the case in question.


100 New Digital Newspaper Subscribers Each Day
In March 2013, the Norwegian publisher Dagbladet began its digital journey by launching the ePaper 'Dagbladet Pluss'. 'Dagbladet Pluss' is a complete digital version of the publisher's printed newspaper. 'Dagbladet Pluss' subscribers get the ePaper, a printed version of the paper every Saturday and stories that other readers cannot find anywhere else. The ePaper is available on PCs, tablets and smartphones, and subscribers can read it anywhere, at any time and as much as the subscriber wants. Before launching the ePaper, Dagbladet was a single-copy-sale newspaper, and it didn't have any experience with handling subscribers.
'Dagbladet Pluss' became a reality after the company realised something had to be done to keep up with the rapid development publishers are facing today. Like many other media houses, Dagbladet experienced a decline in sales and chose to take action.
The results of its efforts were significant. In one year, Dagbladet registered more than 23,700 new subscribers. Since the launch of their ePaper in March 2013, Dagbladet has registered 78,000 new subscribers, and the company currently has over 22,000 paying subscribers. However, Dagbladet experienced more than an immediate increase in the number of subscribers. Today, over 100 new subscribers join every day on average. Since January 2015, the number of paying subscribers has increased by 125%.


Lower the Price of Your ePaper
What did Dagbladet do to get over 100 new digital newspaper subscribers for its ePaper every day?
The company implemented a new price policy. The publisher chose to make its ePaper available for 59 NOK per month (6,31 EUR). To raise interest, Dagbladet even ran a price campaign in which subscribers could access 'Dagbladet Pluss' for 6,31 EUR for the first three months. If you do the math, this means that subscribers could buy the ePaper for only 0,05 EUR in those three months, while the printed version costs 2,67 EUR. This 45-day campaign gave the publisher 6,000 new full-year subscribers.
Considering the numbers, this new strategy has proven to be a huge and highly important success for Dagbladet.
'A new strategy is essential for us, especially when we know how the development in other European countries has been. Newspaper stands in shops are disappearing, and we fear that the same will happen in Norway. In that case, our most important sales channel and contact surface are gone', says Lene Hordvik, Digital Manager at Dagbladet.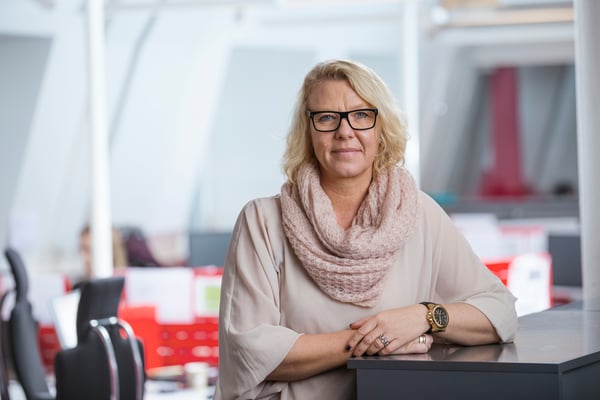 Lene Hordvik, Digital Manager at Dagbladet.


Get to Know Your Readers
In addition to the new price policy, Dagbladet has maintained a strong focus on gaining qualified knowledge about its readers and their behaviour tendencies, which is vital for digital success:
'We realised that detailed knowledge about our readers' habits has become very important for us if we want to succeed digitally. In the next six months, we will therefore establish a new platform which makes it possible for every reader to tailor the offer', Hordvik says.
Obtaining knowledge about reader habits can be very useful for media houses as they attempt to ensure future success. Visiolab works with strategic business intelligence in the media industry and makes surveys that cover a number of important issues. For example, Visiolab found that readers prefer the ePaper to be released the evening before the printed newspaper is available and that readers prefer the portrait orientation. Another interesting observation is that making content available on desktops, phones and tablets seems to be a winning combination. Knowledge such as this can play a significant role as media houses develop mobile news content strategies because it clarifies readers' preferences for news content.
'In order to be an important part of readers' everyday life, we need to have detailed information about their reading patterns. However, this has to happen without our readers noticing it. You can call it a sophisticated form of surveillance', Lene Hordvik says.


Three Initiatives that Got Dagbladet 100 New Subscribers Each Day
Let's take a look at the elements that got Dagbladet 100 new digital newspaper subscribers each day:
Aggressive pricing strategy
Knowing readers' preferences
Continuously adapting its strategy to fulfil readers' wants and needs


If you want to learn more about reader behaviour, click on the link below.